Powertec is proud to distribute Robustel's industrial-grade, wireless IoT routers and modems. When you partner with Powertec, we provide not only leading-edge wireless technologies but also valuable industry knowledge and real-world integration experience. Please read through this great case study, which demonstrates one of the many applications for Robustel's product range. 
Robustel's Smart Elevator IoT solution is designed to gradually increase the raw data collection from elevators and their operating environment to create actionable, preventive and predictive tasks to reduce maintenance costs and minimise failure rates.
Smart Elevators: Overview
With more and more elevators being fitted across the world and incident levels rising, it's becoming increasingly difficult for elevator manufacturers and maintenance companies to guarantee performance while maintaining a positive return on revenue. Companies are finding themselves with a shortage of technical expertise and high costs of labour for elevator operations; For manufacturers, there is also the need to create a real-time stream of operational data for further product improvement.
Robustel solves these problems by introducing the 'Smart Elevator' solution. Connecting elevators to Robustel's state of the art wireless IoT Gateways to maximize the intelligence of elevator systems by collecting, analyzing and utilizing elevator data, to transform the current "Fault-reactive" service practice, to a better "Fault-avoidance" practice.
By integrating Robustel's intelligent elevator gateway, sensor box and management platform, Robustel's smart elevator solution can enable state monitoring, remote management, data statistics, fault alarming, maintenance supervision, advertisement placement, emergency response and other features.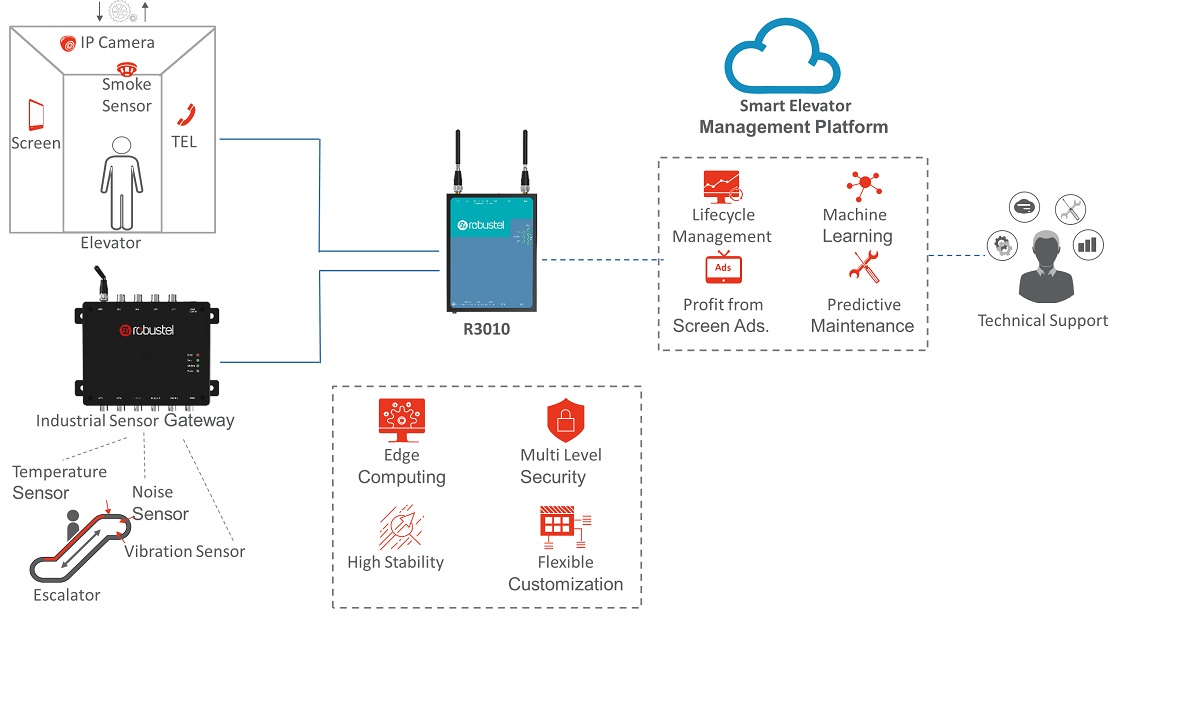 Robustel Benefits at a glance
Outbound Internet – Robustel's 3G/4G routers can be configured to provide outbound internet access as well as inbound connections to specific elevator controllers and sensors.
'RobustVPN' – A unique networking solution from Robustel. Allows deployers to make a remote connection to any connected elevator system directly using any SIM anywhere on the planet without the need for a static IP address.
VoLTE – As fixed-line voice services are phased out across the world, Robustel's devices can provide an outbound voice channel over cellular for an emergency operation.
Integrated Sensors – Robustel has worked with some of the world's leading manufacturers of elevators to ensure native integration with critical sensing and alerting technology.
Built-in Firewall – Robustel routers come equipped with a natively available firewall that can help with integration into more complex networks and ensure the stability and resilience of your wireless environment.
 'Failover mode' – Router can be configured to use a standard internet connection (ADSL/fibre) as primary internet connection & only use 4G data on primary connection loss to give elevators 24/7 uptime.

Cloud Device Management and VPN Access through RCMS
Robustel Cloud Manager Service (RCMS) is Robustel's custom IoT software platform and eco-system. Connecting your Robustel device to RCMS opens up a world of applications to make managing devices, connectivity and provisioning simple.
Use the Robustlink Device Manager App inside RCMS to instantly access your connected devices from anywhere. Allowing you remotely configure, update apps & firmware, debug error logs and view data usage at any time.
The RobustVPN App inside RCMS creates and allocates one, or many of your deployed devices to a VPN group which can they be accessed through the RobustVPN desktop application to access your deployed devices without the security risk of a public IP address or the need for private Static IP allocation from your carrier.
Smart Elevator System Recommend Product:

Supports 2G/3G/4G cellular network
Supports always online and connect according to needs
Various interfaces: RS232/CAN/RS485/Console/USB/Ethernet/FXS
RS485 serial port supports BACnet protocol
Supports GSM and VoLTE(optional) for voice traffic
Supports IPSec, OpenVPN, PPTP, L2TP, GRE, DMVPN
Supports Modbus RTU/ASCII converts to TCP
Built-in, real-time clock, software watchdog
Supports message, telephone and reboot at regular time
Supports e-mail and message event alert
RobustOS + SDK + App
Equipped with the third-party management platform, to realize real-time processing and analysis, fault real-time warning
Management via SMS/Web/CLI/SNMP/RobustLink Cloud
Robust industrial design (9 to 26V DC, desktop, wall or DIN rail mounting)
Want to speak to one of our IoT experts to find out how Robustel can help you build your solution? Click
here
Original words by Robustel Technologies, read the full article
here